Heather Pouliot
President | Marketing Director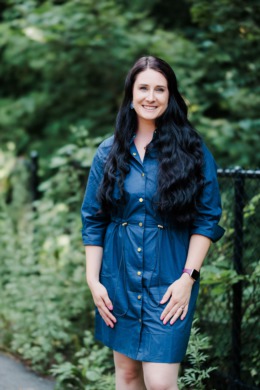 Heather Pouliot is a successful businesswoman and the President of Pouliot Real Estate, a premier real estate firm located in Maine. Heather was born and raised in Maine and has always had a passion for the real estate industry. She lived in New York City where she obtained her real estate license and worked with Bold New York (now Compass), before returning to Maine. She attended Otterbein University in Ohio, and graduated from the University of Maine at Augusta where she received a degree in business with a focus in entrepreneurship. 
Heather started a marketing and design firm in 2016, Core Marketing & Design, and successfully helped clients market their businesses until 2020 when she joined forces with her husband, Matt, to form Pouliot Real Estate. 
Under Heather and Matt's leadership, Pouliot Real Estate has become one of the most respected real estate firms in Central Maine. Heather's expertise in real estate as well as marketing has made Pouliot Real Estate stand out and given the ability to provide a different kind of brokerage for local agents. 
As the President of Pouliot Real Estate, she focuses on the operational and marketing aspects of the agency. Heather is also deeply involved in recruiting new talent and developing comprehensive training programs for agents, ensuring they are well-equipped to meet the diverse needs of their clients. She is actively involved in the community: a past president and current board member of the Augusta Downtown Alliance, board member of the Augusta Food Bank, past Augusta At-Large City Councilor, and she volunteers her time with numerous other nonprofits and organizations in the area. 
When not working, Heather enjoys spending time with her husband, Matt, and two goldendoodles, Oliver and Cooper. She is an avid outdoor enthusiast and enjoys traveling, skiing, hiking and exploring all of the beauty of Maine.